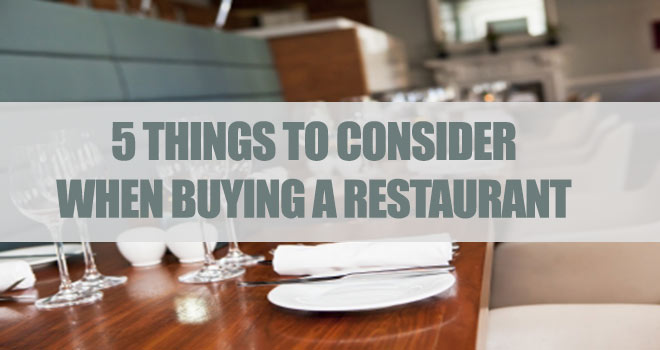 Are you thinking about making your dreams of owning a restaurant a reality? Purchasing an existing restaurant can be a lot easier than starting one from scratch, but you need to take a measured and careful approach to the situation to increase your odds of success. It's true that many restaurants fail, but that's often because people buy them without being practical. Right now, you are in the unique position of being able to buy a restaurant that could actually succeed, so don't squander your golden opportunity. By keeping a few things in mind, you'll have a much better chance of becoming the proud owner of a successful restaurant.
Five Considerations to Make before Buying a Restaurant
So, you've pinpointed a promising restaurant for sale and are thinking about making an offer. Before getting swept away in the excitement, carefully consider the following five points:
How Much Do You Really Know about the Restaurant?

Just because you like the name, menu or location of a restaurant doesn't mean that it's a good fit for you. It's crucial to dig deeply to ensure that you don't make a big mistake. Ask the current owner for the restaurant's marketing materials, financial records and inspection reports. Consider details like utilities, equipment and total square footage. How easy would it be to expand the restaurant if the need arose? Find out what will be involved in having the liquor license transferred as well.

Why is the Restaurant for Sale?

A person doesn't usually sell a restaurant when one is making money hand over fist, so you need to find out why it's for sale. There could be a fairly innocuous reason. For instance, the current owner may simply be retiring, is in debt personally or just doesn't want to be a restaurant owner anymore. On the other hand, major problems could be afoot. If there are unpaid sales taxes, you could get caught up in the problem. Have a business accountant look over the financials to avoid unpleasant surprises. Perhaps a new restaurant opened recently and business has taken a major hit, or perhaps the demographics of the local area have changed. There might even be a lawsuit pending. Get to the bottom of things before you even think about buying a restaurant.

How Easy Will It Be to Transfer the Lease?

Before you buy a restaurant, you should find out what will be involved in having the lease transferred. Will you enjoy the same terms and price, or will the rent increase? If it is going to go up, you should try to negotiate a lower price. It could be that the owner of the building won't want to play ball at all. He might be biding his time until the restaurant is sold in order to find an entirely new tenant. If that happens, you will be in big trouble.

How is the Reputation of the Restaurant?

The biggest mistake you can make is to buy a restaurant with a bad reputation and assume that people will give it another shot because it has a new owner. Most people aren't going to be aware that it's under new ownership. Check Yelp and other review sites to see what people think about the restaurant. If its reputation is in shambles, you should probably move on to something else.]

What does an Inspection Reveal?

Under no circumstances should you ever purchase a restaurant without having a thorough inspection performed. Furthermore, you should have the equipment inspected too. It could be that there's some kind of major repair looming that will set you back thousands of dollars. In fact, that could be why the owner listed the restaurant for sale in the first place.
Above everything else, check your emotions at the door when looking to purchase a restaurant. By remaining impartial and practical, you'll be able to wade through the available options in a more strategic way. This approach may take longer, but it's the best way to end up with a restaurant that has a real shot of success.
To start your search for a restaurant for sale in your area, search our Restaurant for Sale listings. We also recommend that you partner with a business broker to help you with your search and to navigate the due diligence and purchase process. To find a broker near you, please visit our Business Broker Directory. To learn more about what business brokers do and how they can help you – visit this previous blog post entitled – What Exactly is a Business Broker & What Do They Do?
We wish you all the best in your search!