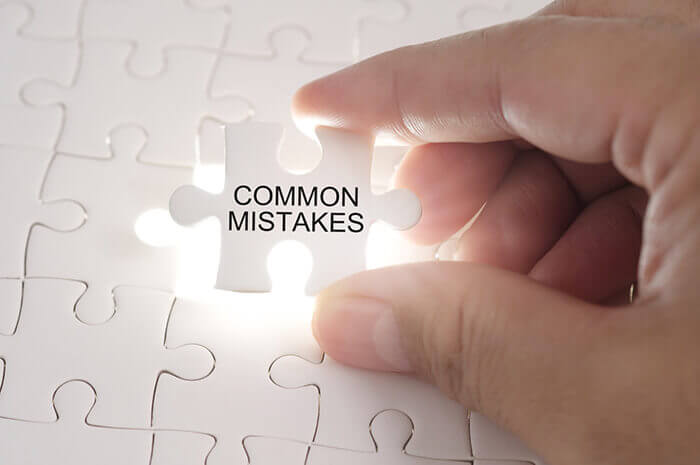 6 Common Mistakes to Avoid When Selling a Business
You've worked hard to grow a successful business, but you know that the time to sell is approaching. With so many decisions to make and to-do lists to complete, the process to sell your business can seem overwhelming, but it doesn't have to be. Whether you plan to sell next month, next year, or in five years, it is never too early to begin preparing to sell. Consider these 6 common mistakes to avoid when selling a business.

1.) Failure to Prepare the Business for Sale
It's true that some buyers may simply want to acquire a business and then completely overhaul it. Most buyers, however, want something much more turnkey, a business they can begin running as-is, with the possibility to make changes down the road. For this reason, it is essential for business owners to take the time to prepare the business for sale. Consider what potential buyers will see when they come through your doors. Update your storefront and office, tidy up your workshop, and fix broken equipment prior to advertising your business for sale. These small fixes give the impression of a well-run business.
Next, dive into the numbers side of your business. Buyers typically want to see at least three years of profit and loss statements, as well as tax returns and balance sheets. If these important documents currently reside in a shoebox or filing cabinet, it's time to organize them in a professional, understandable way, with the help of a CPA or even a professional software program. In addition, remove your personal expenses from the business, allowing your buyers to get a clear picture of the business's financials. You should be accounting for all cash payments, as well. While you may be looking to lessen your taxes by pocketing the cash, you'll also lessen the sales price. Every $.30 of tax savings will ultimately cost you $3 in sales price.
2.) Asking for the Wrong Price
Determining the right valuation for a business is one of the most challenging aspects of a sale. After investing so much time and money into growing the business, it's understandable that most owners would want to get the highest possible price when they sell. In truth, inflated business valuations could turn off the right buyer. Making a high sales price the only factor in the sale could also lead to problems down the road, if funding doesn't come through or negotiations halt. Of course, an unnecessarily low valuation could also leave hard earned money on the table.
You can find valuation formulas for almost any industry online, and while these may provide a good ballpark figure, they won't be completely accurate. That is because there are so many components that go into valuing a business, including not only profit and loss statements but intellectual property, land, and recurring contracts, as well as factors like the economic outlook of the region. For this reason, it is best to work with an experienced broker to determine the right valuation for your business.
3.) Not Utilizing the Experience of Professionals
Business owners are entrepreneurial by nature and likely to take the do-it-yourself approach often. While this is a great characteristic, one that probably contributed to the success of your business, it may not be the best idea when it comes to selling your business. From determining the valuation to finding the right buyer and closing the deal, the process to sell a business is not only detailed, but time consuming. Partnering with the right business broker allows you to remain focused on running your business while trying to sell.
Your broker should first evaluate your business and provide feedback on potential red flags, whether with your financials, your building, or even employee vacancies. Again, determining the right valuation is critical in selling your business, and your broker will look at all the factors to find the right price. Experienced brokers will also have access to a pool of potential buyers, and should pre-qualify them before they ever step foot in your business. They will then manage the sale through closing, all while you remain focused on the priorities of running—not selling—the business.

4.) Spending Time with the Wrong Buyers
It's understandable that business owners, eager to sell their business, may focus their energy on the first person that shows interest in purchasing the business. In some cases, this may work to the benefit of both buyer and seller. Unfortunately, more often than not, focusing on one buyer may become a costly mistake. First, determine if the buyer is the right fit, someone who is not only able to buy the business, but to run it as well. Do they have the proper licensing and experience to take over the tasks of the business? Focusing on one buyer may also shut other potential buyers out of the process. When multiple buyers are interested, this could not only increase the likelihood that your business will sell, it could also increase the sales price.
Many business owners have a vested interest in the business succeeding, even after they sell. For this reason, they may consider selling to a friend or family member, passing on the legacy of the business. While this emotional decision is understandable, it may not be right for your business. Often, these friends or family members may not be ready to run the business. It will also be more challenging to receive a fair price for your business, as your buyer may expect a deal, or they may expect to pay you for the purchase of the business over the course of several years, leaving you on hook financially until the loan is paid off.
5.) Not Maintaining Confidentiality
Unlike the sale of a house or car, where a "For Sale" sign is prominently displayed for the world to see, selling a business requires confidentiality. While you may be focused on the sale of your business and your plans after the sale, there are many reasons why maintaining confidentiality is important. Consider your employees. Whether they've worked for you ten years or ten days, they desire job security. If they learn that the company's ownership could be changing hands, they may become worried about layoffs or position changes. Not only could this cause them to lose focus on the job at hand, they may even begin to look for a new position with more stability.
In addition, learning of a possible sale could make customers nervous, putting contract renewals in jeopardy. Competitors learning of the sale could use it to their advantage, as they begin to steer your customers to their business. Of course, there will be a time when it is appropriate to notify employees, customers, and vendors about the sale. Your business broker should not only maintain confidentiality but also provide guidance and insight on how to eventually announce the sale.
6.) Not Addressing Post-Sale Transitions
While the ultimate goal of selling a business is the changing of ownership, don't overlook what happens after you leave the closing table. During the sales process, you will likely negotiate a transition plan with the buyer. You should not ignore the details of this plan to simply get the business sold. You may plan to retire or start a new venture once the business is sold, but it's not uncommon for buyers to ask the previous owner to stay with the business for a period of time afterward. You may be asked to fill the same role, or one with scaled back responsibilities. Make sure that you are comfortable with the transition plan before you accept an offer.
When selling a business, it's best to plan ahead. Although each situation is unique, there are some common mistakes to avoid. Don't put off preparing your business for sale. Be sure that not only your office is in order, but your financial documents are as well. Work with an experienced broker who can help determine the best valuation for your business while maintaining confidentiality. Don't waste your time with the wrong buyers, and remember to address post-sale transitions during negotiations. These may not guarantee a fast sale, but they can ensure a smooth sales process.
AUTHOR BIO
Scot Cockroft is a serial entrepreneur and business broker who helps business owners realize their full potential in selling their business. He is passionate about the process, having created and sold four of his own businesses to date, and helped hundreds of other businesses do the same. As President of Sigma Mergers & Acquisitions LLC, Scot is in the trenches day-to-day and is always looking for the next business to buy, grow, and of course sell!